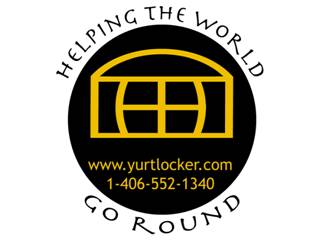 www.yurtlocker.com
Home
Photos
FAQ
Other Stuff
Order
About/Contact Us
The Standard YurtLocker Yurt includes:
Metal Frame
36" Wide Metal Batwing doors
Insulated Fabric Top (Roof) Cover
Insulated Fabric Door Cover
Insulated Fabric Tono Cover
Insulated Fabric Walls with vinyl windows, (*as detailed below)
Nuts and Bolts, Wrenches, Cordage, and Instructions needed to erect your yurt.
*Three vinyl windows in yurts larger than 20 feet diameter with internal zippered clear vinyl, bug screen, and external insulated covering,
With the door as 6:00 o'clock the windows are at approximately11:00, 4:00 and 8:00.
Approximate metric window sizes: One - 60cm. X 120cm, Two - 60cm X 80cm
Approximate English Window sizes: One - 24" X 48", Two - 24" X 32"


Typical delivery time is 6 to 8 weeks. All Prices are Quoted in US Dollars, FOB Seattle, WA

Basic Pricing Information and General Specifications Using Metric Measurements. Click Here
Here is our Condition of Sales Agreement: Click Here
To place an order, if the links are broken, for dealer inquiries, or for more information please email: Rod@yurtlocker.com
More info concerning options, as they become available.